The London & Partners Business Growth Programme is committed to supporting businesses based in London, whose primary reason for being is to address environmental and societal challenges and serve the common good.
About the Business Growth Programme's Impact Cohort
In January 2022, our three-month accelerator programme is to dedicate an entire cohort to mission-driven businesses working to or aligned with the UN's Sustainable Development Goals. The Impact Cohort will benefit from the full range of the Business Growth Programme's support services – such as access to corporates, mentors, workshops and impartial business advice. Additionally, new content – exclusive to the Impact Cohort – will cover themes such as ethical supply chains, measuring your impact, social investment and governance.
What's involved in the programme?
The three-month programme consists of:
A business growth adviser: dedicated advice and guidance including a tailored growth plan.
Corporate engagement: collaborate with larger corporates with operations in London.
Workshops and events: opportunities to learn from expert advisers and peers.
Mentoring scheme: expert help and advice from those who have experienced it first-hand.
Local business support: introduction to a full range of London & Partners' service providers.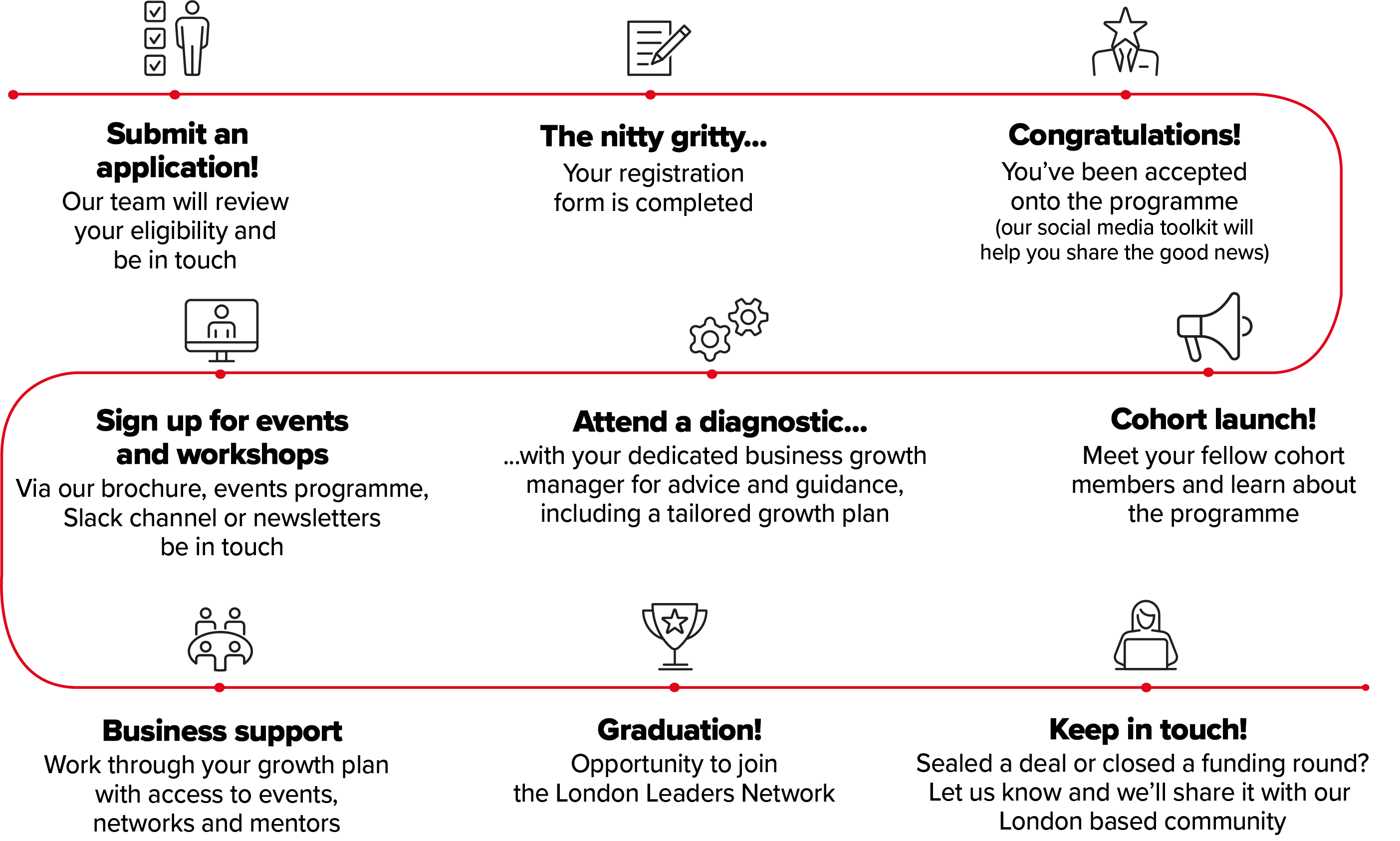 Is my business eligible for the Impact Cohort?
The London & Partners' Business Growth Programme provides free business support.
To be eligible for the Impact Cohort, your business must:
Be working to and / or aligned with at least one of the UN's Sustainable Development Goals
Be based in London
Be looking to grow across London
Have between three and 250 employees
Have a turnover of less than £40m
Have a UK-registered company (with a Companies House registration number)
Continued support and advice
When you graduate from the Business Growth Programme, your journey doesn't just end there. That's where our Alumni Community comes in. You will be invited to join the London Leaders Network – an exclusive membership programme to help you connect with fellow business leaders and gain access to a powerful network of organisations. The programme focuses on leadership development for Founders, CEOs and C-Suite leaders with a focus on peer-to-peer learning and support.
Ready to expand internationally? You might be eligible for our sister programme – the Mayor's International Business Programme.