A leader for games
With 636 video game companies, including Improbable, Sports Interactive and Niantic, London is a hub for games.[1] Creative firms flock to London to access the UK's customer base, and this industry is no different, with the UK leading Europe in digital video games revenue.[2]
Find out more about London's games sector.
Where fashion and retail tech flourishes
London: one of the fashion capitals of the world, and home to two of the top three global fashion schools, including the no.1 London College of Fashion.[3] Combine this with tech-savvy consumers and London's position as a leading city in software and mobile app development – and you understand why London promises to be a crucible for innovation in retailtech and fashtech.
Find out more about London's fashion and retail tech sector.
A hub for immersive technology
What links Meta, Snap and Microsoft? They are all innovating in immersive tech and have all invested in a growing office presence in London. In fact, the market size, measured by revenue, of the UK's immersive industry is £1.9bn in 2022, with 33% of the UK's VR and AR usage occurring in London.[4][5]
Find out more about London's immersive sector.
The next Hollywood
The UK is a world leader in film production and in recent years, London has become a hotspot destination for studios and companies specialising in post-production, virtual production and VFX. There is a strong sense of community and connectivity as many key industry events take place in London every year, such as the BFI London Film Festival and the VFX Festival London.

Find out more about London for film, TV, animation, VFX and digital streaming.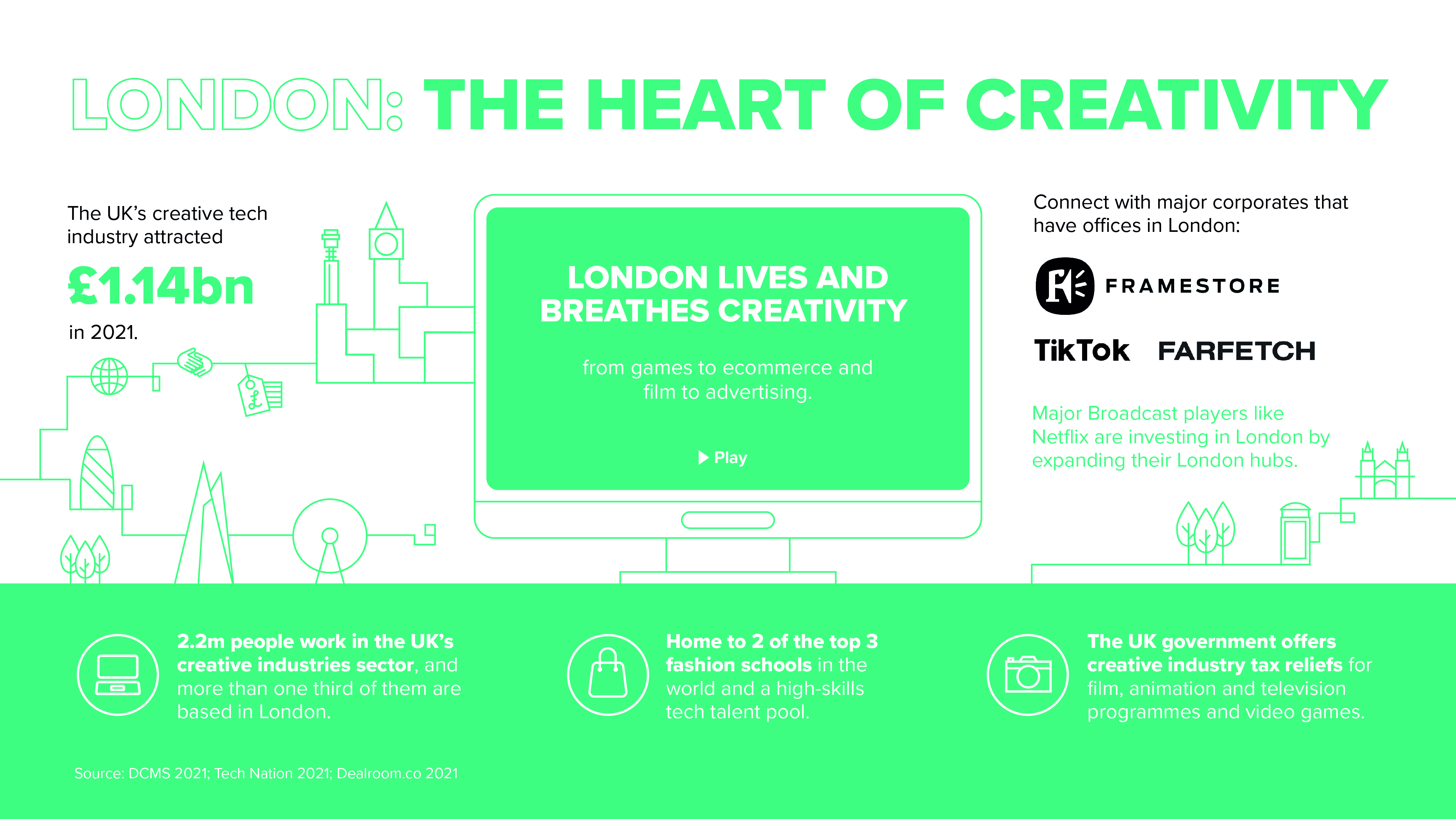 How we can help
London & Partners offers free advice to potential and existing overseas investors, from startups to established companies.
We can help you:
Make the best use of the investment incentives available, such as Video Games Tax Relief, R&D tax credits, prototype grants through the UK Games Fund, and the CreativeXR fund
Connect with creative business support networks and trade associations
Set up your UK entity quickly and efficiently with support from our partners
Contact us
Find out how we can help you set up in London.