Here are five ways that virtual reality (VR) and augmented reality (AR) are shaping the future:
1. Excellent investment opportunities
London is the European leader for VC funding into immersive companies, with more than $1bn invested between 2016 and 2021.[1] London-based VC firms that invest in immersive technologies include 7percent Ventures, Ada Ventures, FOV Ventures and Pi Labs.
2. An integrated ecosystem
Bodies such as Immerse UK promote cross-sector engagement by bridging the gap between VR/AR companies. This not-for-profit, self-sustaining network has a growing community of members.
The Digital Catapult is the UK's leading advanced digital technology innovation centre, thanks to its world-class accelerator programmes.
The VR/AR Association is an international organisation designed to foster collaboration between solution providers and end-users, with a chapter in London.
One of the main reasons for selecting London was the fact that the talent is here. People want to be here – it's a place where people come from across Europe to work.

Chris Scattergood
CRO and Founder, FundamentalVR
3. Consumers of the future
Immersive technology offers a new way to engage with audiences, particularly after the pandemic – and is a fantastic connection to digitally native younger generations.
AR is predicted to add £1.3bn to UK GDP by 2030.[2] Global brands, such as Adidas, Samsung and L'Oreal come to London to work with the likes of Pebbles Studio, which specialises in 360-degree VR, experimental advertising, AR experiences and 3D animation.
Shops are providing experiences that allow consumers to try their products virtually or experiment with technology. London is the perfect testbed for companies to trial new technologies, with a digitally-savvy and diverse customer base.
Harrods launched AR-powered Christmas window displays in 2021, and Marks & Spencer launched an AR shopping app for its Westfield London store, which allows customers to find the product they're looking for in-store via a live navigation system.
4. Top talent
From University College London's Immersive Displays Lab to Ravensbourne University London's leading curriculum on mixed reality and augmented reality, London's universities are meeting the demand for talent.
World-class immersive training is also provided by StoryFutures Academy – a unique collaboration between the National Film and Television School (NFTS) and Royal Holloway, University of London. Its mentoring scheme is run by ILMxLAB – Lucasfilm's immersive entertainment studio.
5. Forward-thinking innovations
Immersive technology is used to power innovation across London's core business sectors, including urban planning, education, media production and healthcare.
VU.CITY uses immersive 3D models to improve city planning, while FundamentalVR is a world-leading company in the use of surgical simulation and training.

And London is ready for the next wave. The metaverse, a virtual reality space in which users can interact with a computer-generated environment and other users, is coming to the UK capital.
Selfridges launched the world's first metaverse department store, and Meta is bringing its AR research programme to London to develop hardware for the metaverse.

Immersive technology companies that are exploring the metaverse can also access funding to support their innovation, including investment from games company Improbable and VC firm FOV Ventures.
Whatever the future, London is not only ready for it, but ahead of the curve with its transformative technology.
London's Creative Frontier: A Global Immersive Tech Leader [PDF 2.4 MB]
Discover why London is a thriving centre for immersive technologies with this report, created in partnership with Dealroom.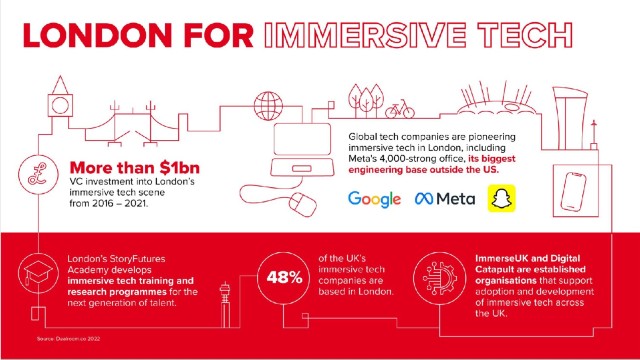 London for immersive tech [PDF 347 KB]
Explore London's strengths and growth opportunities with this infographic.