The Future of Shopping: Digital innovation trends in London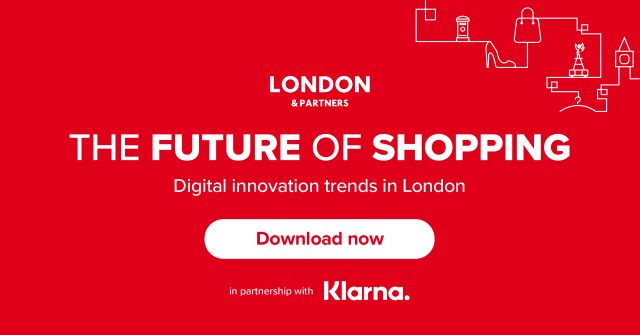 1. Access to global brands
London continues to appeal to international retailers and ecommerce companies such as Faire and Klarna. In recent years, the capital has seen the arrival of international, fast-growing new retail models; examples include Stitch Fix, providing a personal styling service for online clothes shoppers, and StockX, the sneakers and streetwear industry's first online market platform.
2. Tech-savvy consumers
In 2020, close to 87% of internet users in the UK shopped online – and accounted for 14.5% of global online retail sales. UK shoppers are technologically advanced, spending 82bn hours in mobile shopping apps in 2020 – 30% higher than in 2019. [1]
UK shoppers also spend a huge amount annually online – £3,250 per shopper, more than any other country in the world. Ecommerce market sales are currently at £160bn, which makes the UK the largest ecommerce market in Europe (third globally after China and the US). [2]
3. Record investment
London's 75 tech unicorns raised a record $26bn in funding in 2021, more than double the total in 2020 and significantly more than any other European capital. London-based online payment firm Checkout.com is Europe's largest unicorn, valued at $40bn. [3]
Globally, ecommerce is a rapidly growing sector and London companies are taking advantage of investment opportunities. In 2021, $5bn in venture capital (VC) investment poured into London's ecommerce sector, more than any other European city, and fourth globally after the US, India and China.
We chose London as our first international HQ because of the UK's dynamic, fast-moving retail market – home to high street icons, some of the most exciting up and coming fashion brands and a wealth of industry-leading talent. It's a privilege to play a part in this innovative retail landscape.

Simon Leesley
Managing Director, UK, Stitch Fix
4. A growing ecosystem
London's favourable business environment and connectivity creates a thriving ecosystem for ecommerce companies. London is home to 21 ecommerce unicorns, the largest number in Europe, including Farfetch, Depop and ASOS. [4]
5. Thriving talent
London is one of the most famous fashion capitals in the world, home to two of the world's top 10 fashion schools, including the second-ranked London College of Fashion.
In 2021, Jimmy Choo set up his own fashion academy in London. Simultaneously, London is home to the highest number of tech developers in Europe, with more than 357,000 developers.
See a snapshot of London's ecommerce scene
Use the filters in the map to discover the city's ecosystem.